Roger Rabbit Collectables For Sale
If you are looking for the old roger rabbit page, see the old-index.

Want to know when things are added to this page? If you use netmind it will send you an email whenever a specified page changes. Check it out and give it this page's URL.

These are the Roger Rabbit things I own. All prices are in US dollars and include postage in Canada only. I will have to charge shipping for deliveries outside of Canada. .

NEW

---
price: $6
item: Foam Roger Rabbit Puppet Head
description: A foam head of Roger Rabbit, with three finger holes in the back or puppeting. I have several of these.
condition: Mint. Still in the packaging.

price: $10
item: Tiny Roger straddling
description: This is a weird one. It's a little PVC Roger Rabbit waving at you. He's got a blue jester's hat on. His legs are spread like he's sitting on a round ball or something. There's a little hole there but it's too small for a pencil. Who knows what this strange little figure was made for? Rare. This is the first I've ever seen. New info! I got this message from someone:


This figure is actually broken in the state you have it in.  It is
part of a McDonalds wind-up toy.  The base was a "float" from a parade
at Walt Disney World.


thanks Chris!
condition: Perfect. Or broken.


price: $20
item: McDonald's toy: Roger in Benny the cab
description: This former happy-meal toy is Roger in Benny the cab. I think if you slide it on the floor backward, it will go on its own forward. I don't know, it's still in the package.
condition: mint, still in plastic wrap.

price: $35
item: Roger Rabbit Card Set
description: The complete set of collectable cards in two plastic boxes including the stickers. (gum removed, heh heh). Also I have the wrappers if you want them.
condition: Excellent.


price: $45
item: Roller Coaster Rabbit Poster
description: Poster for the short animated film "Roller Coaster Rabbit" that showed with Dick Tracy
condition: Haven't looked at it carefully, looks to be in very good condition.



price: $190
item: Roger Rabbit Watch
desciption: Part of the limited edition series, now unavailable. Hands tell the time. Live-action background.
condition: I've worn it for a few years; the strap has been replaced. The metal has a few small scratches from normal wear. The picture below shows it when it was mint with the plastic still on it. It's expensive only because this is the watch I wear and I'd miss it if I sold it. :-)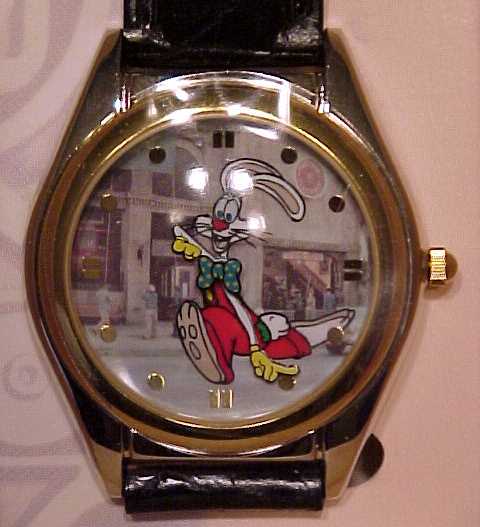 Price: $500
Item: Roger Rabbit production cel from "Tummy Trouble" short
Description: My prize possession! Depicts Roger trying to close the elevator door. Background shown is separate and not from Roger Rabbit. Comes with a certificate of authenticity.
Condition: Perfect
price: $30
item: Jessica pin
description: Pin about half an inch high of Jessica from the back, from the waist up, looking over her sholder. Sexy image. Cloissine pin.

Price: $38
item: View Master Reels
description: Three reels included. Viewed just once. Offers 3_d scenes from the movie.
condition: excellent. opened and viewed once.
price: $25
item: Mad magazine spoof of Roger Rabbit
description: This issue of Mad from 1989 has a spoof of Roger in it. On the cover is Roger and Benny the cab with Alfred E. Newman's face on it.
condition: Perfect so far as I can tell.
price: $50
item: Long Poster of Roger
description: A full door-length poster. The background image is real. Roger is pictured. Logo "Who Framed Roger Rabbit" appears on top.
condition: It's been on a few doors. The edges are a little worn and there may be tape marks. Rolled.
price: $40
item: Roger Rabbit "Seriously Funny" poster
description: Blue background, square in center with Roger smiling with thumbs in his suspenders.
condition: Mint condition, still in plastic wrap. price: $40
item: Roger against Brick Wall poster
description: Personally my favorite of all the RR posters ever made.Rog has his hand in handcuffs, up against a brick wall with a spotlight on him. Below him is the movie logo.
condition: Great.
price: $30
item: Jessica Rabbit Ink and Paint Club Poster
description: Jessica and her band performing in this normal sized poster.
condition: great.
price: $12 each
item: PVC 4" figurines from Who Framed Roger Rabbit
description: I have a bunch of these.
Roger waving with one hand on hip
Roger banging himself on head with hammer, stars coming out
Baby herman with a rattle
Roger with a box of "toon cigars" and one in his mouth
Baby herman crawling
Roger Rabbit walking really goofily (My favorite!)
Roger with turquois coat and eye monacle with hat
Roger looking hopeless with handcuffs on

condition: All in great condition. Some are pictured below.

price: $30 each
item: RARE PVC figures
description: I have a bunch. These are very rare, I don't know how to get more when I sell these. I think they were made in australia. They sure are cool looking.
Roger sqeezing water out of his ear
Weasel opening canister of `dip'
Jessica singing into microphone
Roger in Benny the cab, with wheels extended.

condition: All in great condition. See the picture above, some of them are in there.


price: $5.00 each.
items: The next nine buttons are all from a set. They are 1-3/4" round.
Each has a character and a quote or saying.
item: Jessica - I love you more than any woman ever loved a rabbit!
item: Weasel - At least I'm not stupid!!!
item: Ape - Walt sent me.
item: Ape - Get with the program.
item: Baby Herman - This whole thing stinks like yesterday's diapers!
item: Crazy Weasel - Can it wait til I've had my coffee?
item: Roger logo - It's been real. (Or has it?)
item: Smart guy weasel - I'd like to see you weasel your way out of this one.
item: Penguin - Ink and Paint club
item: Logo - My goose is cooked, my hash is slung, my fait is accompli!
item: Roger and Jessica - One good toon deserves another.
condition: perfect



Email me, or send a postcard to my snail address:

---
JimDavies: jim@jimdavies.org